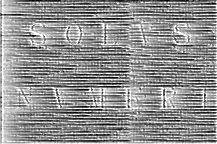 [an error occurred while processing this directive] Domus
[an error occurred while processing this directive] RECRUITMENT
[an error occurred while processing this directive] Historia
[an error occurred while processing this directive] Albums (MP3s)
[an error occurred while processing this directive] Vita
[an error occurred while processing this directive] Gear
[an error occurred while processing this directive] Lyrics
[an error occurred while processing this directive] Scores
[an error occurred while processing this directive] Links
[an error occurred while processing this directive] Pictures
The life of Stephane Epardaud
1979: The beginning.
1992: Vaguely picks up guitar.
1993: Starts the drums and official start of Exès De Vie.
1998: Official end of Exès De Vie due to desertion of everyone and me the first. Stops drumming.
1999: Purchase of Durandale, my Ibanez 777.
2000: Purchase of my Marshall 8080.
2001: Purchase of recording gear for guitar, and first recordings.
2002: Starts drumming again and purchase of drum recording gear, starts the Solus Numeri project.