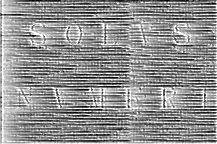 Solus Numeri History
This project is an old project which started really in 2000, when it dawned on me that I had to record my compositions before I forgot them while looking for a band to play in.
I started by buying enough gear to record the guitar: a mike, a mixing table, a good sound card. Then little by little I learned to use the recording softwares and how to have a correct sound.
I also learned that to compose and to be able to play what you compose are two different things with little in common, but this did not stop me.
At the beginning, I took #2 and Zelda from my old compositions for Exès de Vie, then I composed m1(Lucy) and Delbosh, on which I'm still working.
I then took my drumkit out and established my secret base in my office's basement. With the purchase of a drum mike set (which are a pain to play around btw.) I started composing the drum track.
Right now I finished the guitar and drum tracks of #2 and Delbosh and finished composing m1(Lucy) and Zelda, but I think the recording will take more time.
I still have two old songs to revive: Eddie Lives and Eh Merde! composed for Exès De Vie again, plus tons of bits of songs and a new song.
The goal is not to record everything myself, I asked the help of Alexis Bietti (from Artefact) for the bass tracks of #2, and I hope that one day he will have enough time to record some other songs, but I am ready to ask other bass players once the songs are finished for the guitar and drum tracks. I would also like to ask Ranko (also from Artefact) to compose and record a drum track for my upcoming prog-metal composition.
Nonetheless I have my eye on a Chapman Stick and I will not hesitate to buy it if I cannot find a decent bass player.